Aplikasi Pemantauan Lokasi Keluarga berbasis Android
Keywords:
Parents, children, location monitoring, android
Abstract
High mobility by family members, makes it difficult for parents to supervise children's activities. At present supervision of children is not enough just to see or supervise directly. This application is designed to be able to monitor the location of the child's presence when parents want to know the whereabouts of their children. This application is also able to see the history of the existence of children in the time interval specified to be searched. This application is used android-based mobile devices. This application is expected to be used by parents to indirectly supervise their children's activities.
References
Nugroho Tri Adi, "Pola Pengawasan Orang Tua Terhadap Aktivitas Anak di Dunia Maya : Studi,†vol. Vol 13 No., pp. 1–20, 2017.
A. Kadir, Pengenalan sistem informasi. Andi, 2003.
T. Sutabri, Analisa Sistem Informasi. Yogyakarta: Andi, 2012.
T. Alia and Irwansyah, "Pendampingan Orang Tua pada Anak Usia Dini dalam Penggunaan Teknologi Digital,†A J. Lang. Lit. Cult. Educ., vol. 14, no. 1, pp. 65–78, 2018.
S. Alfeno and R. E. C. Devi, "Implementasi Global Positioning System ( GPS ) dan Location Based Service ( LSB ) pada Sistem Informasi Kereta Api untuk Wilayah Jabodetabek,†Sisfotek Glob., vol. 7, no. 2, pp. 27–33, 2017.
Hanafi, "APLIKASI PEMANTAUAN KEBERADAAN LOKASI DAN KECEPATAN PADA KENDARAAN DENGAN MENGGUNAKAN TEKNOLOGI MOBILE DATA DAN GPS DENGAN DIGITALISASI PETA,†J. Teknol., vol. 8, pp. 143–150, 2015.
H. Kenedy Tupan, R. N. Hasanah, and W. Wijono, "Optimasi Penempatan Load Break Switch (LBS) pada Penyulang Karpan 2 Ambon menggunakan Metode Algoritma Genetika,†Electr. Electron. Commun. Control. Informatics Syst., vol. 11, no. 2, pp. 1–8, 2017.
J. Priono and E. Setiawan, "Implementasi Geofencing dalam Monitoring Rute Pengiriman Kendaraan di Sebuah Perusahaan Ekspedisi,†Ultim. J. Tek. Inform., vol. 9, no. 2 SE-Articles, Oct. 2017.
S. W. Rahate and M. Z. Shaikh, "Geo-fencing Infrastructure : Location Based Service,†Geofence Infrastruct., vol. 3, no. 11, pp. 1095–1098, 2016.
J. Simarmata, "Aplikasi mobile commerce menggunakan PHP dan MySQL,†Yogyakarta Andi, 2006.
C.-S. P. Jamie Wong, Daisy Sang, "An Android Geofencing App for Autonomous Remote Switch Control,†vol. 11, no. 3, pp. 288–296, 2017.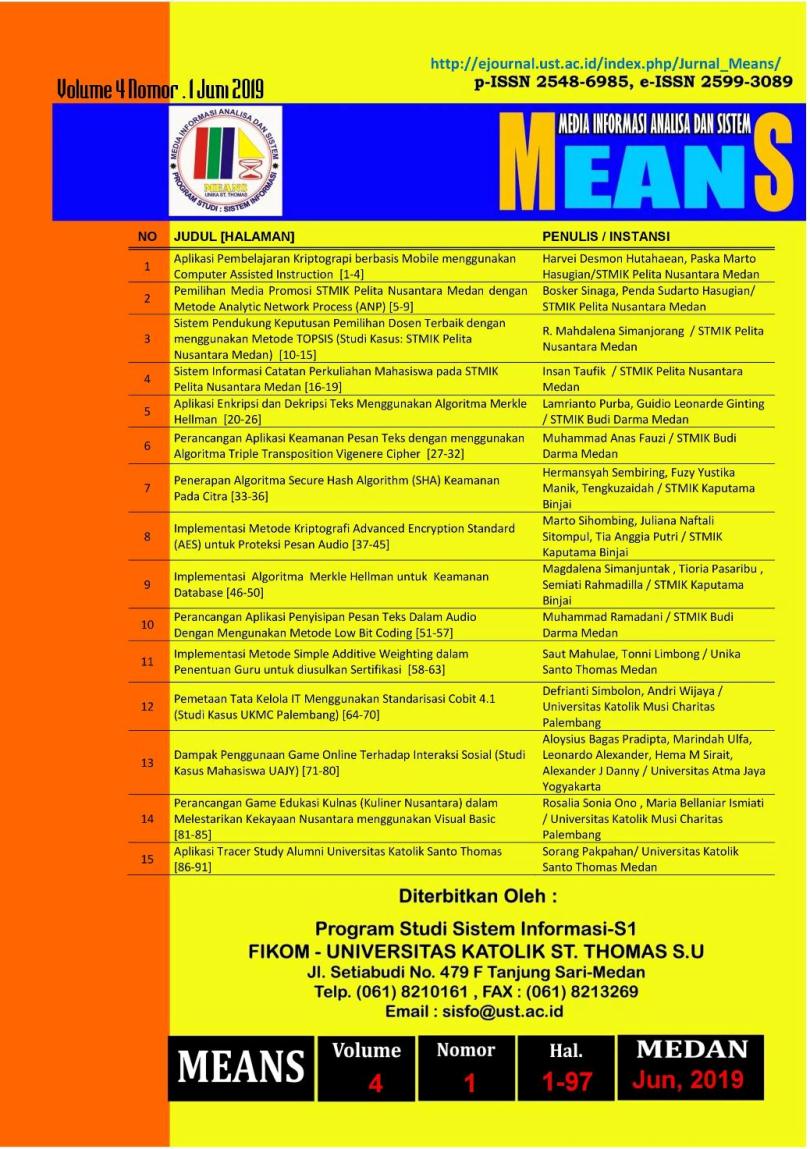 How to Cite
Malau, E. P., & Sitanggang, E. br. (2019). Aplikasi Pemantauan Lokasi Keluarga berbasis Android. MEANS (Media Informasi Analisa Dan Sistem), 4(1), 92–97. https://doi.org/10.54367/means.v4i1.519
License
Copyright (c) 2019 MEANS (Media Informasi Analisa dan Sistem)
This work is licensed under a Creative Commons Attribution 4.0 International License.